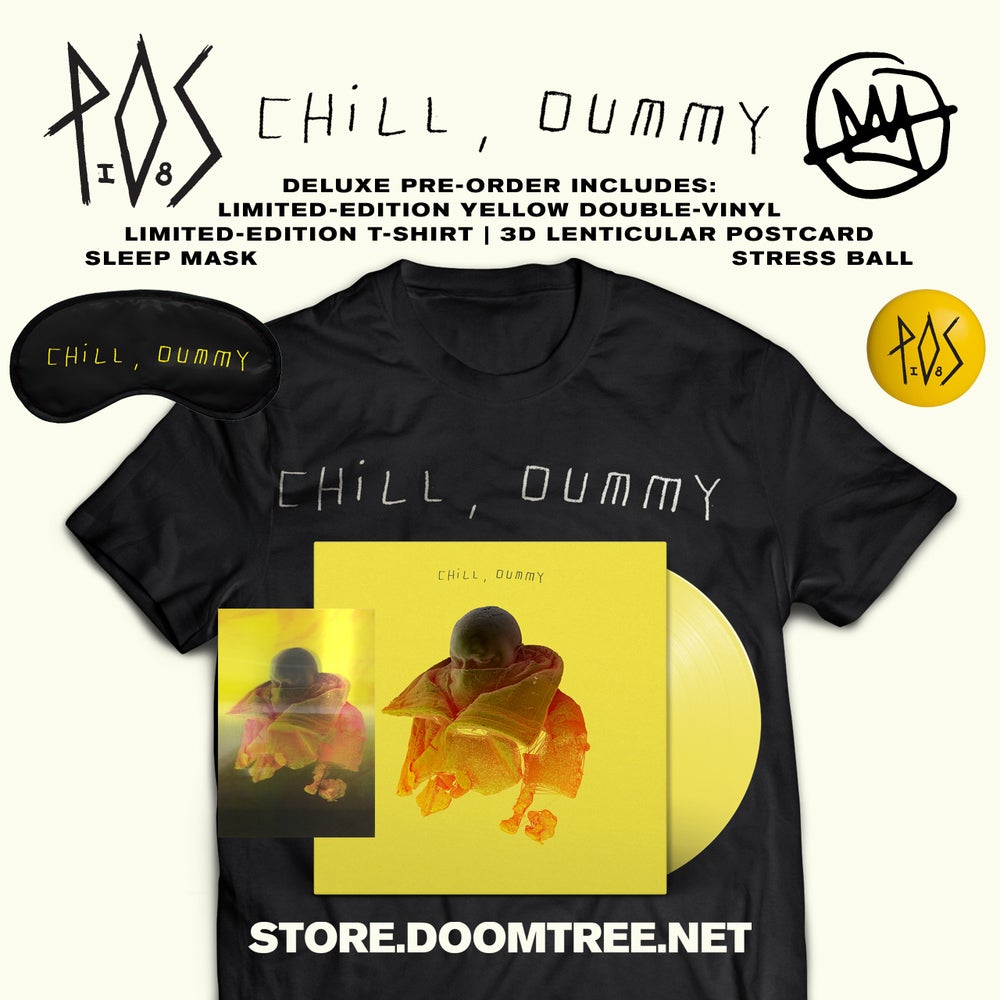 Chill, Dummy LP - P.O.S (DELUXE PRE-ORDER)
$

52.99
LP ORDERING INSTRUCTIONS - RELEASED ON 3/17
Please make sure to specify album format and shirt size before adding to cart. This LP will be released on 3/17. All LP orders placed within the US by Friday 3/10 will ship out on Tuesday 3/14 via USPS first class mail. All international LP orders placed by Friday 3/10 will ship out on Saturday 3/11. All orders placed after Friday 3/10 will ship on a first come first serve basis. We cannot guarantee any exact arrival dates. All pre-orders will receive a digital download of the full album on 1/27.
Any other items bundled with this pre-order will ship with the pre-order. Please place a separate order if you'd like earlier delivery for non pre-order items.
The Chill, dummy Standard Pre-Order includes:
—Your choice of CD or black double-vinyl gatefold LP with large pullout poster insert
—Instant free download of "Lanes," "Wearing A Bear," and "sleepdrone/superposition"
—Chill, dummy sticker and P.O.S button
—Digital download of Chill, dummy on 1/27
The Chill, dummy Deluxe Pre-Order includes all of the above Standard Pre-Order items, as well as the following awesomeness:
—Your choice of CD or yellow double-vinyl gatefold LP with large pullout poster insert, signed
—Limited-edition Chill, dummy reflective t-shirt in an exclusive one-time-only colorway
—Chill, dummy 3D lenticular print (6x9 postcard size)
—Chill, dummy stress ball
—Chill, dummy sleep mask
TRACKLIST
Born A Snake
Wearing A Bear
Bully
Faded
Pieces/Ruins
Get Ate
Roddy Piper
Thieves/Kings
Infinite Scroll
Lanes
Gravedigger
sleepdrone/superposition
SKU: 38434688
Categories: #<0x2e70f20>#<0x2e70b60>#<0x2e70688>#<0x2e6fda0>#<0x2e6f468>0x2e6f468>0x2e6fda0>0x2e70688>0x2e70b60>0x2e70f20>