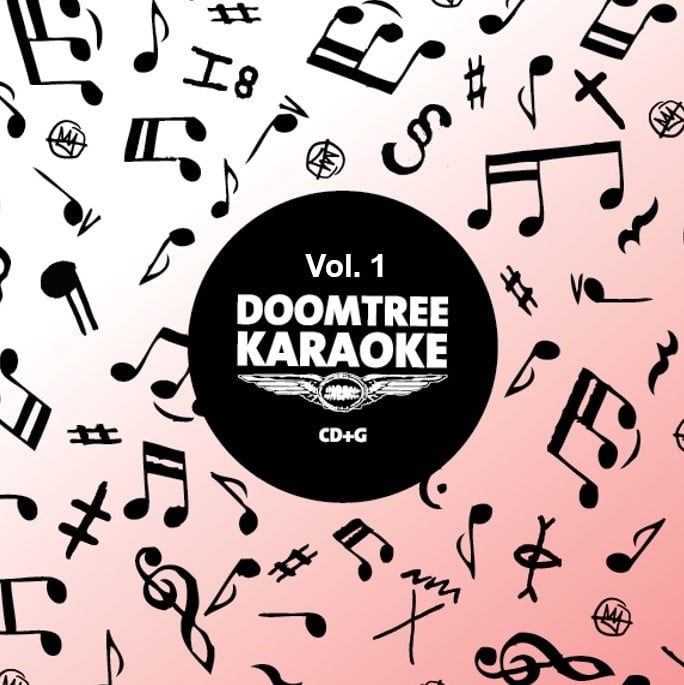 Doomtree Karaoke Vol 1 - CD+G (and free download)
$

12.99
IMPORTANT: This is an official CD+G karaoke disc and will only play in karaoke machines. A free download of all 14 karaoke songs in video format (MP4) is included with this purchase in order to enjoy the disc from any computer, Also included are the digital CDG+MP3 files of the songs for use with karaoke software.
Sing along to all of your favorite Doomtree HITZ!!!
That's right, 14 of your favorite Doomtree HITZ on an official CD+G karaoke disc (for all of you die hard karaoke-ers). Created by our webstore's own Grace Zimmerman (Stef's mom), this thing is the real deal. Grace and her husband Doug have been diligently running our webstore since Day 1, and they've been doing pro karaoke since way before that. Grace often makes her own karaoke CDs to bring out to events, frequently visiting nursery homes over the weekends and hosting karaoke wedding receptions all over the place (Sims' wedding was the best). When she told us she wanted to make an official Doomtree Karaoke disc we simply could not refuse. Also comes with a free download of all 14 video files, so you can play them from any computer in addition to the karaoke machines. This is only available at the Doomtree Webstore.
TRACKLIST
1. Bangarang
2. Drumsticks
3. Game Over
4. Bolt Cutter
5. Little Mercy
6. Optimist (We Are Not For Them)
7. Beacon
8. Dixon's Girl
9. Burn It Down
10. The Wren
11. Rebel Yellow
12. Let It Go
13. Dots and Dashes
14. Low Light Low Life